CHOOSING THE RIGHT NECKLACE LENGTH
The standard chain length supplied with our necklaces is 18″although many are offered in a few different lengths. The diagram below gives a handy guide as to where they roughly fall when worn.
If you don't see the size listed you'd like when ordering get in touch. Other lengths and styles are often available on request. 
Rings
We use the standard UK sizing scale. Each ring we make is sized and made to order, half sizes are available to order on request.
When buying rings with a wide band or stacking rings it is advised to order half, to one full size up from your usual size to ensure a comfortable fit.
Please be aware that size conversions and other brands sizing can vary and phoenix alchemy jewellery can't be held responsible for incorrectly converted sizes. We recommend getting your size professionally measured to ensure the most accurate fit.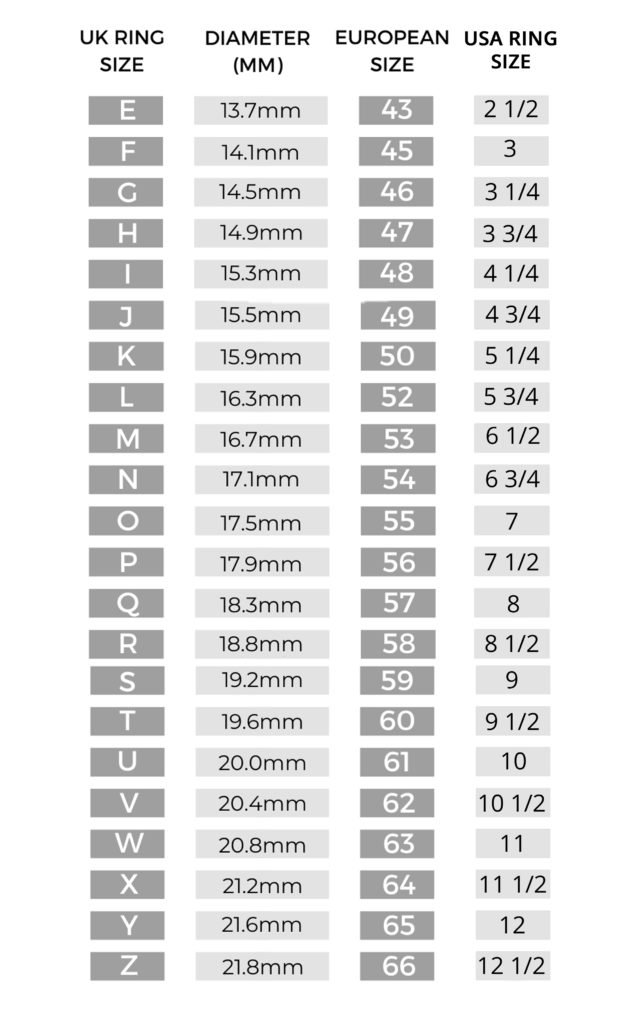 CHOOSING  THE  RIGHT  RING SIZE
If you are unsure about your ring size, you can use one of these sizing charts to help you determine your size. The most accurate way to determine ring size is by getting measured by a professional jeweller or we also have plastic ring sizers available to purchase here.
INSIDE DIAMETER ( MM )
Measure the inside diameter of another ring that fits on the same finger and use the chart below to determine the correct ring size. We suggest you measure twice for accuracy. 
Bangles and bracelets
Bangle sizes are measured by their internal diameter. Hand as well as wrist size needs to be taken into account when choosing the size of a closed bangle. I offer bangles in 3 standard sizes:
small – 60 mm,
Medium – 65 mm
large – 70mm
Bracelets are measured by length and include the clasp. To find your size, measure your wrist then add 2cm. Bracelets also come in a choice of 3 standard sizes:
small – 7″
medium – 7.5″
large – 8″
but just get in touch if you would like your bracelet or bangle in a custom size not listed to see if we can help.
Please measure and check sizing carefully before ordering to ensure you order correctly. We cannot be held responsible for customer error.